Company Debt
CAS 360 will automatically lodge a Form RA67 each morning for every agent. This will check all outstanding debt for all of the companies your firm is the agent for.
| | |
| --- | --- |
| From the Main Toolbar, go to Company. | |
| Locate the company | |
| From company selection screen select the Company Debt Alert | |
From the Company Selection screen use the Advanced Filters to manage the Debt Alerts across your entire CAS 360 database.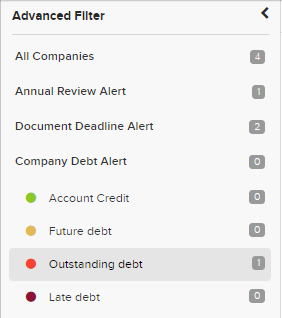 Companies with outstanding debts will activate the debt alert in the company selection screen. This alert will notify the agent of any outstanding debt across all your companies.

The Company Debt alerts are broken up into the following categories:
Credit with ASIC
Future Debt
Debt now due
Overdue Debt
By hovering over the alert, CAS 360 will give users a breakdown of the outstanding debt. It will display any future debt, amount due and amounts overdue by 0-30 days, 31-60 days, 61-90 days and 91+days.
The alert will display how old the debt based on when the invoice is received and stored in the system.
The alert will also display the Annual Review due date which is calculated as 60 days from the annual review date entered into the General Details screen.
Similar to Document Deadlines when any of the Company Debt alerts appear, CAS 360 users have the ability to send an email reminder to the company contacts advising them of the outstanding debt.
To notify the company officer or a billing contact of the company of the debt the company owes.

The reminder has the option to include an ASIC debt invoice for the recipients to processes their debt payments.

Click to update the debt information for the company.

CAS 360 will automatically lodge the Form RA63 - Request Debtors Ledger Report for a Specified Company for the selected company.

Click to download a PDF of the Company Debt Invoice prepared by CAS 360.

Click Mark as Paid where the company debt has been paid, but ASIC has not yet processed it.

Check out ASIC Payment Processing Time for more information on when your payment will appear on your account.
The Pay Button has been added:

CAS 360 has inserted a Pay button into the Company Debt Alert. Users clicking on this button will be directed straight to the postpay website, CAS 360 will automatically populate BPAY code, Reference number and invoice amount.
Note: If there is a difference between the amount in CAS 360 and Post BillPay, users can manually update the amount in the postpay website to reflect the right amount due.

When an outstanding debt amount has been paid
CAS 360 users will receive a notification where companies have paid an outstanding debt.