Details
CAS 360 has a new and powerful notification system. CAS 360 users will receive all communication from ASIC, BGL and other applications through the notifications system.
Users will receive notifications for ASIC lodgement and will also be notified when an Annual Review has been received by CAS 360.

Also added to our notification system is the Daily email notifications!!
See Daily Email Notifications for more information
This completely automates the process in CAS Desktop where users would have to manually connect to ASIC, this is all automated in CAS 360.
Click the bell icon to display the most recent notifications you have received.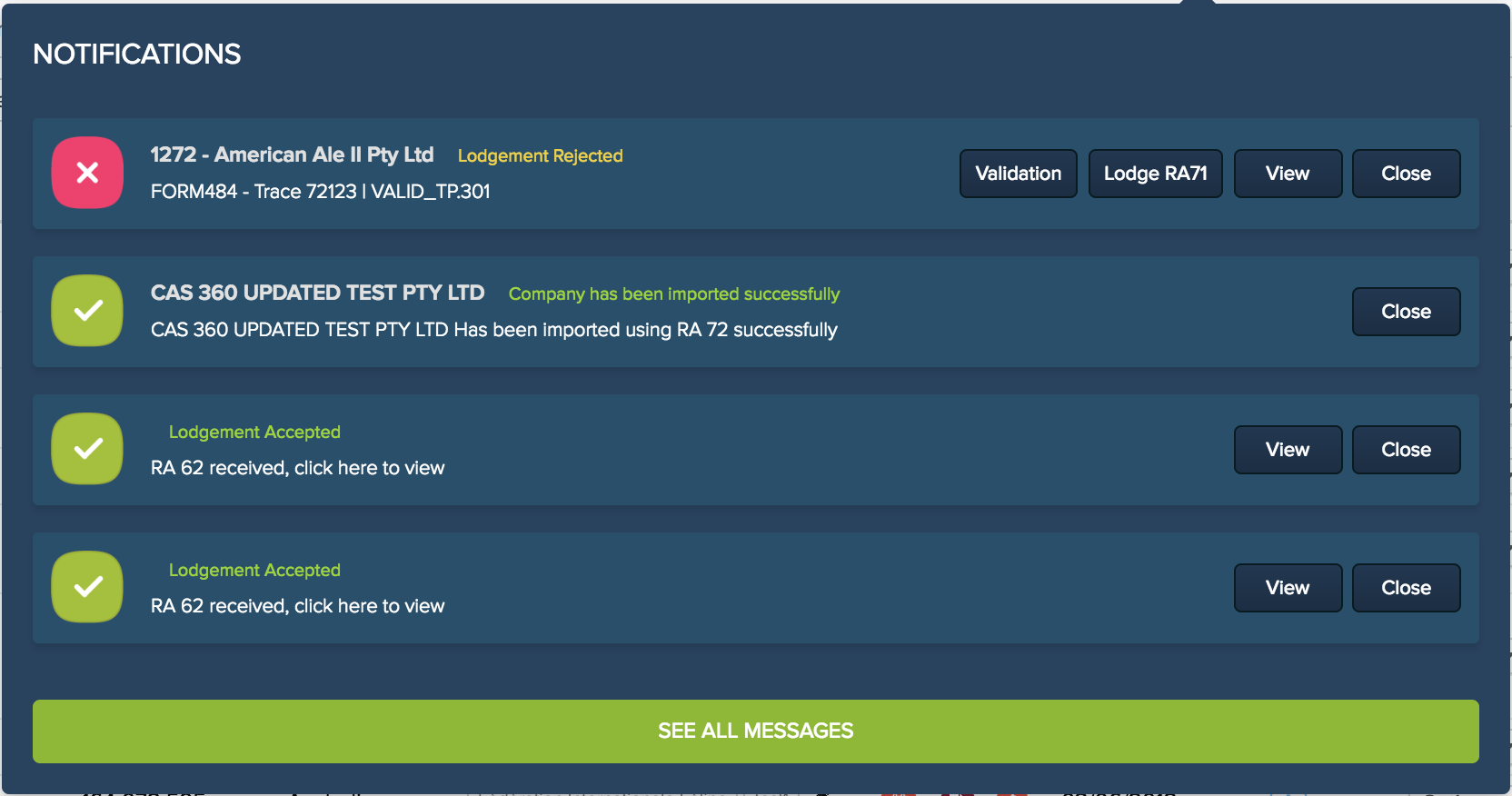 Endless Notifications
Users can see ALL notifications inside the notifications drop down. Users can scroll through all notifications they have received and even action all notifications.
Previous notifications can also be viewed from the Messages screen and by selecting See All Messages

Note
Notifications that are more than 60 days old will automatically archive.
However, users can download a report of all Inbox Messages (both current and archived), via the Inbox Screen
Search
Users can search through all notifications that they have received, making it easier than ever to find notifications related to a specific company or even individual.

Try searching through notifications by entering the company name, Form name or even the type of notification.
Timestamps
See exactly when a notification has been received by holding the mouse over the notification.

Label Filters
Filter notifications by labels. If you are already using labels to filter companies in your company screen these labels are now applied to your notifications.

All notifications v Unread notifications
Users can filter notifications by all notifications or just the unread notifications.

Icon
Explaination

Archive the Notification.

This will remove the notification from the bell icon.

The notification will still be stored in the Messages

The Notification has been marked as Read. Click to mark the Notification as Unread in the Messages screen
The Notification has been marked as Unread. Click to mark the Notification as Read in the Messages screen
If CAS 360 is integrated with your firm's practice management system, the notifications system can advise of any jobs or changes to contacts, so the required forms can be processed with the click of a button.
Tip
When using Notifications, ensure that pop-ups are allowed for CAS 360 via your internet browser. The notifications will not appear if pop-ups are blocked.