Query
How do I edit an Address in CAS 360?
Solution
To edit an address name from the global addresses:
Click

beside the address and select Edit.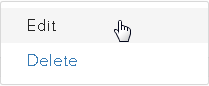 Change the address details and click

Note
This process will not prepare any address change forms. This is for the purpose of changing the address in the CAS 360 database. To prepare address change forms, see
Address Changes
.