Note: This article applies to invoices created in CAS 360 prior to September 2018. All invoices after this date will be created with the correct invoice amount.
Query
---
The ASIC invoice for a Special Purpose Company is displaying incorrectly $4 as outstanding and the annual review fee as $49. The Annual review fee should be $53.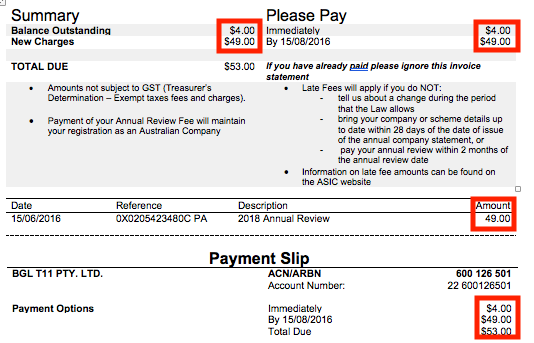 Solution
---
ASIC is aware of a current issue in their code to display the annual review amount for Special Purpose Proprietary Companies is incorrect.
This issue affects the annual review fee for Special Purpose Companies.
As a result of the error, an outstanding balance of $4 and annual review amount of $49 is displayed incorrectly.
However, the total due for the annual review will be correct ($53).
This issue will also affect the Company's Annual Review Email