How can I amend or correct information to a form that was already lodged to ASIC?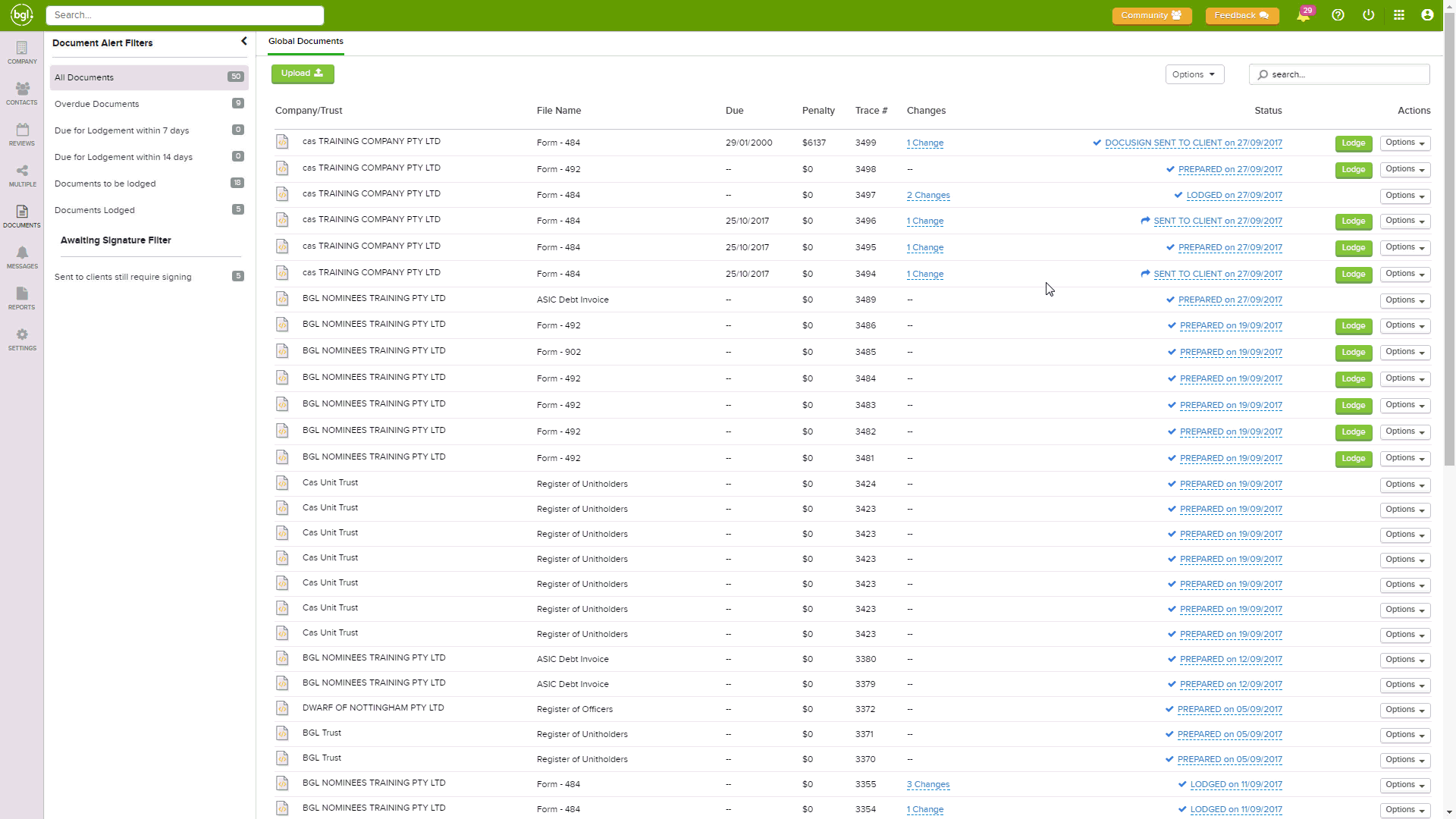 Solution
Prepare and lodge a form 492 or 902.
A form 492/902 can be prepared to correct information lodged on Forms:
Form 201 - Application for registration as an Australian company ( Form can be prepared in CAS 360, however not currently supported for electronic lodgement )

Form 203 - Change to Address

Form 284 - Cancellation of shares

Form 304 - Change to Officers

Form 316 - Annual Return

Form 484 - Company Changes

Form 485 - Solvency Statement
Information to correct may include (but not limited to):
Address discrepancies
Incorrect name spellings (e.g. correction of shareholder name)
birth date details
| Form Type | Explanation |
| --- | --- |
| Form 492 | Used in cases where the company or registered agent has found an error and wishes to notify ASIC of the error |
| Form 902 | Used in cases where the company has been asked to lodge a correction to ASIC |
| | |
| --- | --- |
| From the Main Toolbar, go to Documents | |
Locate the document for which a correction is needed.
Beside the document, click

IMPORTANT!!! This option will only be available if the document status is set as lodged via CAS 360.
Note: Users can also click

at the top of the Documents screen to prepare a free-form 492/902 for documents that have not been lodged in CAS 360.
Select Form 492/902
Field
Explanation
ASIC Form
The ASIC form that requires the changes.
DOCIMAGE No
The DOCIMAGE system is ASIC's database which contains all documents received by ASIC which are scanned and retained in an electronic form. Documents lodged with ASIC are then given a DOCIMAGE Number. If a document is lodged with CAS 360, this number will be automatically saved in the Documents screen.
Date
Date of the original document.

Is this form in response to an ASIC requisition?

Select if ASIC has requested a correction to be made.

Select if the company or agent has found an error and wishes to notify ASIC of the error.

Details of Correction
Enter the corrections that need to be made for the company.
Click

Forms Prepared
Request for Correction - Form 492
Notification of Supplementary Information - Form 902
Supplementary Document Resolution/Minute
Meeting Minutes
Lodging the Supplementary Form 492 / 902
If the Form 492 - Request for correction is correcting a document that was lodged by paper or a lodged registration application then you will need to complete the Form 492 - Request for correction and send it to ASIC by post.
It needs to be sent to:
Australian Securities and Investments Commission
PO Box 4000
Gippsland Mail Centre VIC 3841
For further information on lodging paper forms with ASIC, please see Lodging Paper Forms
Form 492 can only be lodged electronically if the original Form was lodged electronically.
See How to Lodge Documents Prepared to ASIC
Please be advised that you will need the document number of the original lodgement for this request. If you cannot locate the document number, you can obtain this using the company name or ACN in a 'Organisations and business names' search through ASIC Connect

Please note: if the original form being corrected is a Form 201: the Form 492 must be lodged manually despite whether the Form 201 was lodged manually or electronically.