What is a Director ID?
From November 2021, directors will need to verify their identity as part of a new director ID requirement.
A director ID is a unique identifier that a director will apply for once and keep forever.
This applies to directors if their organisation is a company, registered foreign company, registered Australian body or Aboriginal and Torres Strait Islander corporation.
Directors must apply for their director ID themselves because they will need to verify their identity. No one can apply on their behalf.
The ABRS is responsible for the implementation and administration of director ID. ASIC will be responsible for the enforcement of associated offenses.
For more information on Director ID and how to apply for one, check out the Australian Business Registry Services (ABRS) website.
Director ID Alert
CAS 360's Director ID Alert is designed to help you track and manage your company director's IDs. You will instantly be able to identify if a director still needs to apply for an ID and better yet, the alert even allows you to send messages to the company directors reminding them of their ID obligations and how to go about acquiring one.
| | |
| --- | --- |
| From the Main Toolbar, go to Company. | |
| Locate the company | |
| From the company selection screen select the Director ID Alert | |
From the Company Selection screen use the Advanced Filters to manage the Director ID Alerts across your entire CAS 360 database.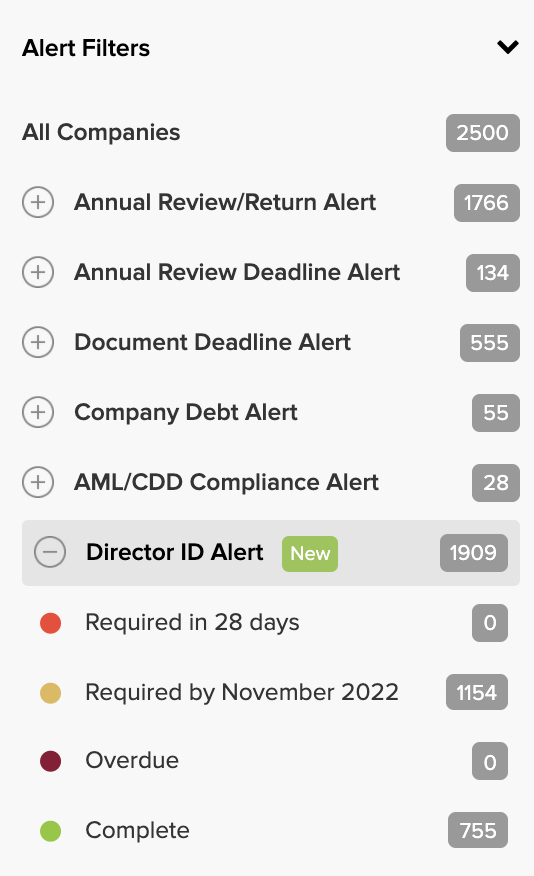 Companies with currently appointed directors will activate the Director ID alert in the company selection screen. This alert will notify you of any Directors where their ID has not been saved into your CAS 360 Database.

The Director ID alerts are broken up into the following categories:
Required in 28 days
Required by November 2022
Overdue
Complete
Note: Companies with a grey Director ID alert indicate that the company has no currently appointed directors recorded in the Officers Screen.
By hovering over the alert when it is either yellow

, red or maroon (indicating that the ID has not been saved into your CAS 360 Database) CAS 360 will give users the ability to review all the director IDs in the Company.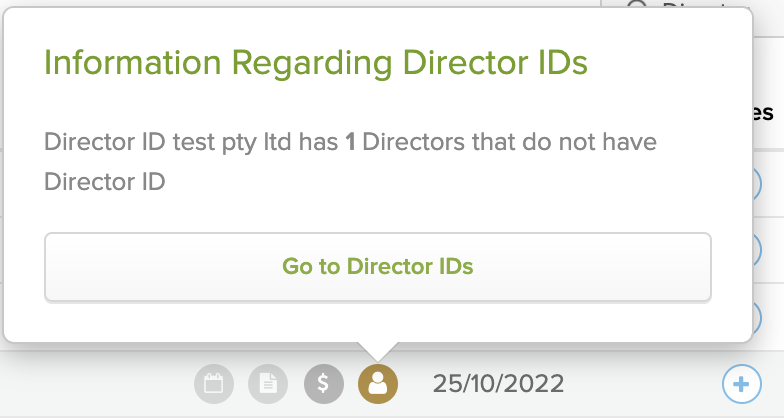 Click

CAS 360 will display the Director ID window. This will instantly help you identify which directors may still need to apply and/or notify you of their Director ID.
To notify all company directors which do not have a Director ID recorded in CAS 360 about their Director ID requirements click Send Now.

This will send the company directors the Director ID - Initial Email. The template for this email is fully customisable and can be edited from the Email Templates screen.
Alternatively, you are able to send a reminder or enter the Director ID for each Company Director individually.
| | |
| --- | --- |
| | Click to enter the Director ID for the contact into CAS 360 |
| | Click to notify the company director of their Director ID requirements. This will send the company directors the Director ID - Reminder. The template for this email is fully customisable and can be edited from the Email Templates screen. |