Overview
ASIC will send late fee & lodgement fee invoices for a company into your CAS 360.
ASIC invoices will take at least one week to arrive in CAS 360.
When an Invoice is received into CAS 360, a notification will appear.

Invoices will all be saved into the Documents Screen.
Navigation
| | |
| --- | --- |
| From the Main Toolbar, go to Documents | |
Invoices that are related to specific forms will appear as an attachment for that form. (Invoices not related to any forms will display as its own document in the document screen)
Locate the document, click
Select Attachments
Send Invoices with the Company Debt Alert
CAS 360 promotes a zero-touch experience by automatically lodging a Daily Debt Report. Each morning, CAS 360 will automatically lodge an RA67 and receive an RA68 from ASIC.
Companies with outstanding debts will activate the debt alert in the company selection screen. This alert will notify the agent of any outstanding debt across all your companies.
From the Company Selection screen use the Advanced Filters to manage the Debt Alerts across your entire CAS 360 database.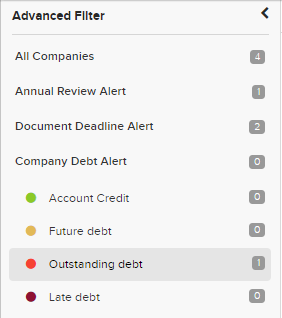 When any of the Company Debt alerts triggers, CAS 360 users have the ability to send email reminders to the company officers and contacts detailing the company's outstanding debt with ASIC.
The reminder has the option to include an ASIC debt invoice for the recipients which includes their BPAY details used to processes their debt payments.
From the Main Toolbar, go to Company.

From company selection screen select the Company Debt Alert
To notify the company officer, select Send Reminder and select the Recipient.

Toggle any Invoice to be included as an attachment in the reminder email

CAS Invoice VS ASIC Invoice

The CAS360 Invoice is a CAS360 template that can be customised via the Document Templates Screen.

The ASIC Invoice is the original Invoice sent from ASIC

To send a notification click Send.