Details
---
For trusts, a Distribution is a payment made to the Trust Beneficiaries.
In CAS 360, Distributions can be added to Discretionary Trusts.
Navigation
---
From the Main toolbar navigate to Trust
To select a Trust that has been previously set up in CAS 360, simply search and click on the Trust Name from the list.

Select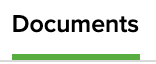 Instructions
---
Click

beside a previously created document
The Options menu provides users with a number of functions to manage company documents.
Select Attachments
The Attachments option allows users to view all the documents generated for the document. This may include meeting minutes, resolutions, share certificates.
Users are also able to upload external files to CAS 360 to attach to the document. Files may include client letters or other supporting documents.
You can either drag and drop documents or select browse for files and locate the additional documents you want to attach.

To view the attachments, hover your mouse over the document.
| Icon | Explanation |
| --- | --- |
| | Delete an attachment. Attachments generated by CAS 360 or migrated from CAS desktop cannot be deleted. |
| | Download a copy of the attachment to your computer |
| | Instantly generate the attachment for you to view |