Overview
---
BGL has partnered with Smarter SMSF and LightYear Docs to enable users to purchase company constitutions directly through CAS 360! This makes company incorporations easier than ever.
Steps required to purchase a Company Constitution in CAS 360
Step 1: Electronic Company Registration in CAS 360
All full CAS 360 subscribers have the ability to lodge company incorporations electronically with ASIC. For more information, click here.
Step 2: Payment Details entered into MyBGL
Purchasing a constitution is an additional paid service. To complete the purchase, ensure the account owner, or account admin adds a payment method via MyBGL. For more information, click here.
Instructions
---
| | |
| --- | --- |
| From the Main Toolbar, go to Company. | |
| From the Company Screen, select Company Registrations | |
Once the company incorporation has been lodged and accepted by ASIC. A Buy Constitution button will appear. From here a constitution from either Smarter SMSF or Light Year docs can be purchased.

Note: This is an additional paid service, with the number of constitutions purchased included in the monthly invoice. Payment can be set up via MyBGL.
The Purchase Constitution screen will appear.
Select

to preview a sample PDF of LightYear Docs or Smarter SMSF
Sample Constitutions
For examples of the available constitutions, see:
Select

besides a provider.
Once purchased, the company constitution will appear as part of the Post-Incorporation Document Pack. The data will be filled in from the company registration. Information such as company name, company number, and other company details.
To prepare these documents, click:

In document production, attached will be the Company Constitution: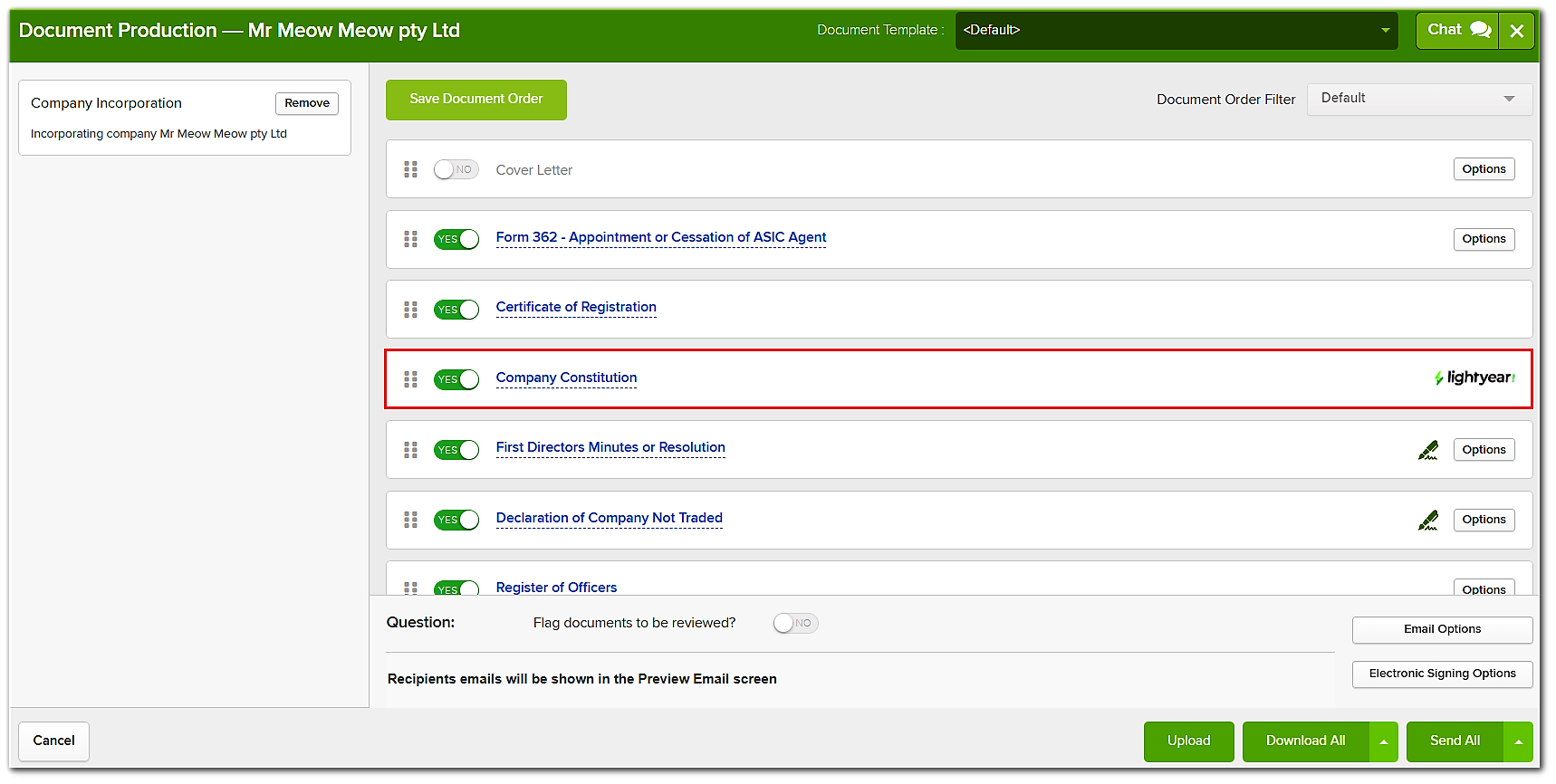 Common Queries
---
1. Do I need a company constitution?
All 'no liability' public companies and 'special purpose' companies must have a company constitution. For other companies registered through ASIC, you have the choice to either use the replaceable rules contained in the Corporations Act or draft your own constitution.
2. Why purchase a company constitution when we can use the replaceable rules?
There may be a number of reasons to why you may choose to adopt a company constitution instead of relying on the replaceable rules. Most importantly, is that replaceable rules are basic rules that apply to all companies and may not cover everything your company may need.
In contrast, a constitution allows your company broader coverage and flexibility.