Overview
---
CAS 360 now supports integration with online legal document provider Cleardocs to allow a seamless transition from incorporating a company to managing its compliance in CAS 360.
When incorporating a company using the "Company Registration" document pack from Cleardocs, you will be able to export the details of the company to CAS 360 to start managing its compliance without needing to re-enter any company details.


Accessing Cleardocs from CAS 360
---
Access the Cleardocs company registration process directly from CAS 360.
| | |
| --- | --- |
| From the Main Toolbar, go to Company. | |
| From the Company Screen, select Company Registrations | |
To prepare a new Company Registration, click

CAS 360 will bring up the incorporation screen.
You can complete each section detailing information for the company, or click

to Save current progress and close the Incorporations screen. You can enter the rest of the company registration details to cleardocs instead.
You must at least have a company name entered before saving and closing the incorporations screen.
You will now see an option to Register via a Provider.

Click

to obtain access to the Cleardocs company registration process
Tip
Alternatively beside a registration, click

and select Connect to 3rd Party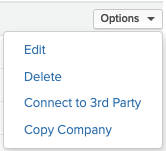 Exported information
---
The following information is exported into CAS 360 when registering a company in Cleardocs:
Company Details:

ACN

Company Type and Class

State of Incorporation

Company Addresses

Officers

Contacts for Officers are created in the Global Contacts screen

Shareholdings

Share Class




Contacts for Shareholders are also created in the Global Contacts screen
For more details on what information is sent to CAS 360 using the Cleardocs integration, please contact support@cleardocs.com.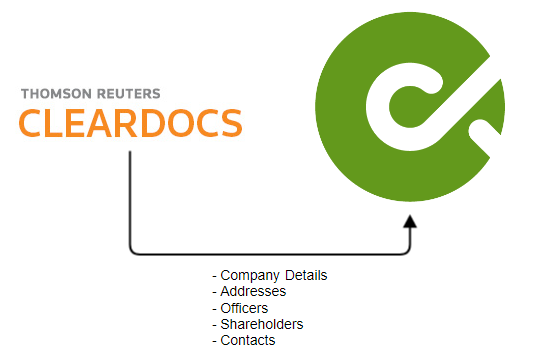 Instructions
---
Once the Company Registration document pack has been ordered in Cleardocs, you will be able to export the information to CAS 360.
1. Ensure you are in the My Documents screen accessed via your account settings in Cleardocs.
2. Select the document package to view the details for the ordered package
3. Click Export company details to BGL CAS 360 under BGL CAS 360.
4. A login page will be displayed. Enter in your CAS 360 credentials
5. Authorise Cleardocs to access the listed data for each company by clicking Authorise.
6. Confirm that the details have appeared in CAS 360 by selecting the company in the Company Selection screen and confirming the details
More information
---
For further queries about the BGL CAS 360 integration with Cleardocs, please contact the Cleardocs helpline on 1300 307 343 or via email on support@cleardocs.com.