| | |
| --- | --- |
| From the Main Toolbar, go to Company. | |
| Select Prepare Agent Form | |
Select Form 362 - Registered Agent Appointment and Cessation.
Instructions
Registered Agent Appointment & Cessation
This form is prepared when a company nominates a new ASIC Agent or wishes to Cease the current ASIC Agent. This form must be signed by an officer of the company.
| Field | Explanation |
| --- | --- |
| Would you like to add a company to your agent list? | Select |
| Would you like to remove a company to your agent list? | Select |
| Select Company | Select the company. Note: The company must first be added to the Company Selection screen |
| | Select the signatory on the Form. CAS 360 will automatically select the Form signatory from the Officers screen. |
| Agent | Select the ASIC Agent details. CAS 360 will automatically select the Agent from the General details screen (if one has been selected). |
Click

After Form 362 has been lodged and accepted, CAS 360 will automatically download company information from ASIC. This information can then be imported into your company selection screen
To import this data into your CAS 360 for the company,
| | |
| --- | --- |
| From the Main Toolbar, select | |
Besides the company click,

Selecting import will overwrite the existing data for the selected company and replace the information with the data from the ASIC Electronic Data.
Users will have the ability to select the ASIC data to be imported.
Toggle

beside the data type.
Users can choose particular company data to be imported including:
Company Details
Shareholders
Officeholders
Addresses
Ultimate holding company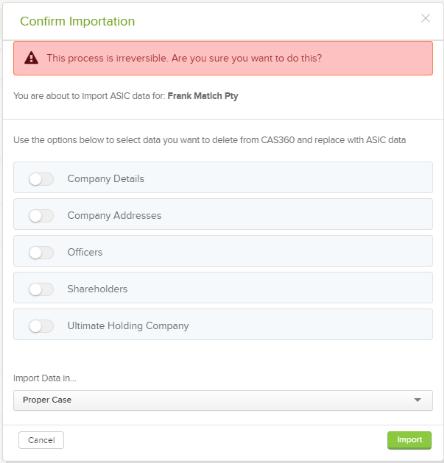 Click
If any historical information was entered for the selected company, importing an Electronic Data Download will cause this historical information to be lost from CAS 360.
For more information on data downloads, see: Form RA71 - Request Electronic Data Download.
Form 362 cannot be Digitally signed and is therefore not supported by Digital Signing.
After lodging Form 362, Agents can update the companies Registered Office Address with Form 484.
Processing time
Please note that ASIC can take up to a few hours to process the lodged Form 362 and appoint the recorded agent on the form as the company's registered agent.
This can mean that any forms lodged immediately after Form 362 may be rejected by ASIC as you have yet to be appointed as the registered agent. Please allow for a few hours before attempting to lodge again.