---
The Global Addresses screen will list all addresses created in CAS 360 and addresses migrated from CAS desktop.
Add an Address
---
Select

to add in a new address to CAS 360.
Tip: Care Of
When adding addresses, the Care Of field allows users to add a person's (or entity's) name who represents the direct correspondence to a particular place.
Delete an Address
---
To delete an address from the Global Addresses:
Click

beside the address and select Delete.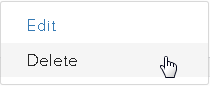 Edit an Address
---
To edit an address name from the global addresses:
Click

beside the address and select Edit.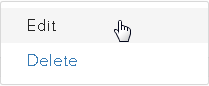 Change the address details and click

Note
This process will not prepare any address change forms. This is for the purpose of changing the address in the CAS 360 database. To prepare address change forms, see
Address Changes
.
Search
---

Use the Search box to locate an Address.
Address Usage Information
---
When the In use by nn Records is hovered over, CAS 360 will display the companies, entities and contacts that this address is used for.