Introduction
CAS 360 allows document dates to be changed, including signing dates for particular documents. This article will demonstrate how a different document date can be set.
Instructions
Update Document Dates
When processing a company change, the Transaction Date entered, also known as the date of the change, can be different from the Document Date.
A document date can be set from the document production screen.
1. Flag on the print option beside a company change to prepare or reprepare a company change.

2. Select

to proceed to the document production screen.
3. Select

to the far right of the document.
4. Update the Document date. Toggle on "Apply this date to all documents" if this date is to be updated for all documents.

Note:
The document date of the ASIC form cannot be prior to the date of change.
The ASIC form cannot be lodged before the date of change. (see V117)
Update Signing Dates
Signing dates can be set for particular documents, such as Share Transfer Form for a company and Unit Transfer Form for a unit trust.
1. From the document production screen for Share/Unit Transfer, select Options beside Share/Unit Transfer Form


2. Toggle on Set signing date, and this will allow the signing date to be updated.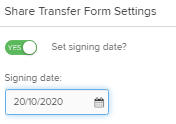 When this option is toggled off, the signing date field in the document will be left blank.
Note: the signing date cannot be dated before the date of change.
Please also refer to How do I future date documents.