Support Query
---
I have attempted to email clients their document packs, but instead of sending it through, the loading circle spins and returns me to the page. The document packs are not sent.
Solution
---
This is a common issue when DocuSign is on a trial subscription and the subscription has expired. No notification of the expiration comes through CAS360.
Please check that the DocuSign subscription is active by logging onto the DocuSign website.
If you have an active DocuSign subscription, please try disabling the Docusign integration and re-enable it. Please note that you will need your DocuSign credentials to re-enable DocuSign. To do this, please take the following steps:
1. Select settings from the main toolbar.

2. Select Electronic Signing Settings from the top toolbar.
3. Select Disable DocuSign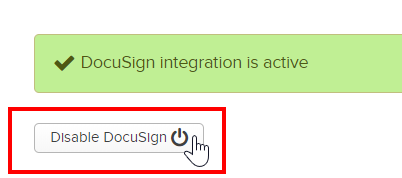 4. Select Enable DocuSign. At this stage you will be taken to the DocuSign website where you will need to re-enter your DocuSign credentials.

.