Details
When changes to shareholders are notified to ASIC on the Form 484, the question 'beneficially owned?' must be answered. This question is asking whether the shares are owned by the shareholder (so the benefits of the shares go to the shareholder) or are held by the shareholder on behalf of a trust or another party (so the benefits of the shares do not go to the shareholder but are passed on to another party).
| Beneficially Held? | Who gets the benefits of the shares (e.g. dividends)? |
| --- | --- |
| Yes | Shareholder |
| No | Not the Shareholder - the other party on behalf of which the shares are being held, e.g. trust |
If a change to the beneficial owner status takes place, this must be notified to ASIC on the Form 484 within 28 days of the change.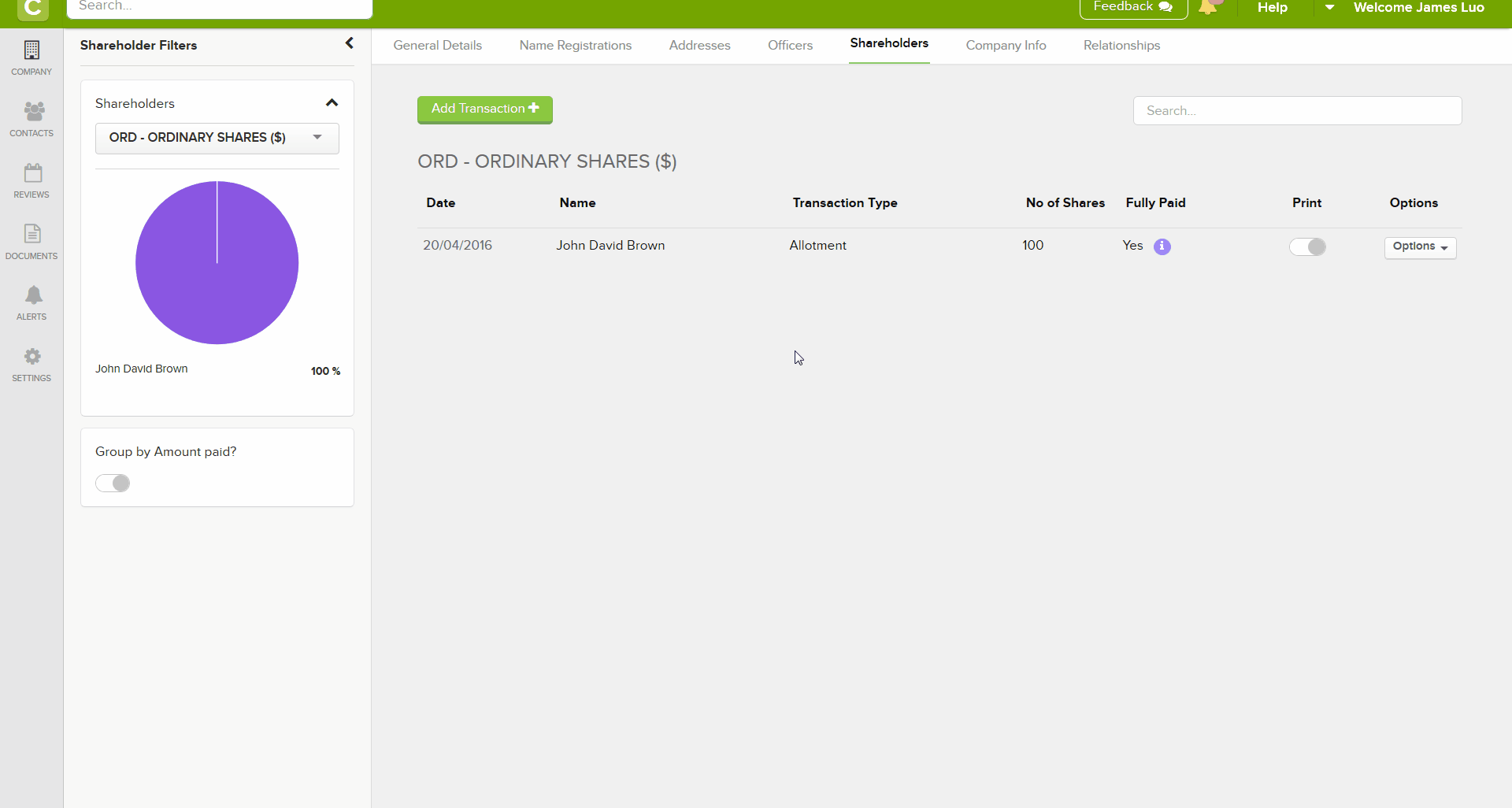 Navigation
| | |
| --- | --- |
| From the Main Toolbar, go to Company. | |
| Select the Company from the list. | |
| Select Shareholders | |
Click

Select Change to Beneficial Ownership
Instructions
CAS 360 will display the Change to Beneficial Ownership screen.
Field
Explanation

Transaction Date

Input the Date of Change to Beneficial Ownership.

Shareholder

In the shareholder field, CAS 360 will display a list of the company's current shareholders.

Beneficial Owner
CAS 360 will automatically prefill this field if there is a beneficial owner.

New Beneficial Owner

Begin typing the new shareholder's name. CAS 360 will begin searching the Global Contacts screen for the person. If the Contact has not been previously added to the Global Contact screen, will appear.

Click to add a new contact. Leave this field blank if the shares are now beneficially held by the shareholder.

Share Type

In the Share type field,

CAS 360 will display a list of the share types the shareholder holds.

Number Of Shares

Input the number of shares changing beneficial ownership.

Meeting Status

Select the meeting status of the member which will appear on the Resolutions.
Notes
Click
to add extra notes to appear on the Register of Members.
Click

The Change of Beneficial Owner transaction will now appear in the Shareholders screen. Hover the mouse over the

icon to display the name of the Beneficial Owner, as well as their Address, Email, Mobile, TFN, ABN and Place of Birth as seen below.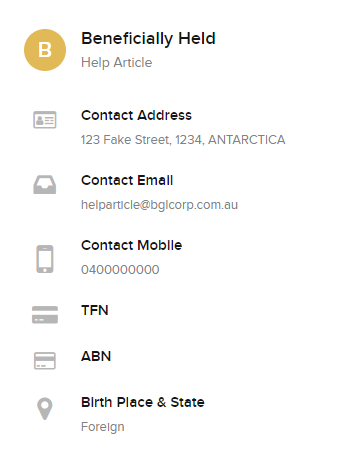 Forms Prepared
---
In the Document Production screen, CAS 360 will automatically select the documents required:
Directors Meeting Minute or Resolution
ASIC Form - Change to Company Details Form 484 Section C
Register of Members
Share Certificate
Members Meeting Minute
Members Consent

Share Transfer form
Note: ASIC does not keep detailed information for the beneficial owner, but only the beneficial ownership status.
CAS 360 allows you to prepare documents and then notify ASIC through electronic lodgement via the Documents Screen. For more information on how to do so, click here.